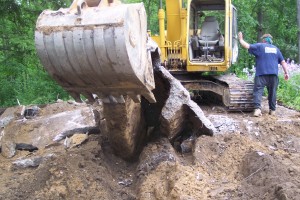 It is commonly known that excavation and foundation work can be the most expensive part of building. With Cumming Concrete, we will bring you considerable savings and lessen conflicts with your busy schedule. Ask us about our all-in-one Excavation, Foundation and Flatwork packages.
Excavation
Cumming Concrete Construction, Inc. can excavate any site. We are capable of using any machine that can allow access even into the most difficult of areas. We can excavate for new building, underneath existing structures, lot clearing or for water and sewer.
Our operators can grade or re-grade driveways to include gravel or just to provide proper drainage of water. We can also grade to create or repair elevations to a project site work with landscape architects to create visual effects.
What ever the need, our machine operators can do almost anything.
Various Excavation Projects